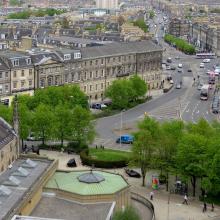 When TH Real Estate's Director of Development Martin Perry spoke about Picardy Place recently, there was very little detail (Breaking news, 24.5.17).
Plans, he told Leith Central Community Council, for an important bus / tram interchange here are still in development. And that was that.
Spurtle has done a little digging, and the last substantive document we can find outlining City of Edinburgh Council's thoughts on the subject date from July 2009. The document is attached below.
UPDATE: See Extras (25.7.17).