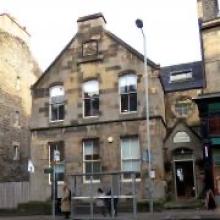 Broughton Street's Stafford Centre has for over 30 years helped people experiencing mental health difficulties to build self-confidence and integrate with the community. Managed by Support in Mind Scotland, it's a resource for anyone living in the Edinburgh area.
As it prepares to step up its activities over the next fortnight, the Stafford Centre now has two volunteer roles to fill. Local Spurtle readers could be an ideal fit.
Volunteer Development Manager Alexis Robertson Cumming describes the positions below.
Walking Group
We are looking for a volunteer with good people skills who likes sharing walks with others. This role involves supporting the walking group alongside a staff member.
There are two walking groups. One focuses on gentle and scenic walks within the Edinburgh area, often starting at the Stafford Centre. The other covers 3 or 4 miles with a longer walk of up to 7 miles on occasion.
The Volunteering would take place on Tuesdays – roughly between 10.30am and 1.00pm (times to be confirmed)
Creative Group
The Centre has a large creative space which we hope to use again soon. The Creative Group is currently flexible to meet on a Mon, Tues, Wed or Thurs for a couple of hours in the early afternoon.
The volunteer must have art/craft experience, and a level of confidence to learn new techniques with others informally.
Ideally, the person will be experienced in a broad range of techniques, and in group work with adults. They will be able to teach new skills to a small group if required, and to support individuals with their own projects. 
This volunteer will support the group alongside a staff member. 
How to apply
Volunteers will complete an application and induction process which includes a PVG police check and reference checks.
To find out more or to arrange an informal chat, contact Alexis Robertson Cumming here.