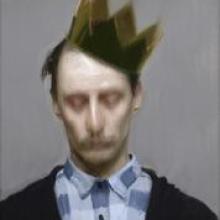 Too nerve-racking to watch the rugby this weekend?
Instead, you could do a lot worse than to visit the BP Portrait Award 2019 at the Scottish National Portrait Gallery.
It's a very accessible exhibition which all readers who also have the benefit of being higher primates will probably enjoy.
This reviewer's favourite work was the one that ended up coming second in the international competition.
Norwegian Carl-Martin Sandvold's self-portrait 'The Crown' is more than simple Nordic noir.
The declined level gaze, the lack of facial focus, the stray hair, and unsettling bathos of a party hat – all combine to upset expectations.
In some ways, it's an anti-portrait whose refusals of contact and authority convey much about introspection, disappointment, and discontent.
If that's too glum for you, don't worry. There's a wide variety of other styles and approaches to be enjoyed (some of them highlighted here), and the great thing is that the exhibition is free so you can afford to take it in bite-sized portions as many times as you like.—AM
It's open every day from 10am–5pm, and runs until 22 March.
Image courtesy of the Scottish National Portrait Gallery: Carl‐Martin Sandvold, The Crown, 2019, oil on linen, unframed 762 x 610 mm