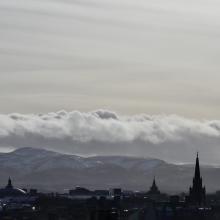 Cllr Adam McVey, Leader of Edinburgh Council, yesterday announced new social distancing and visiting restrictions at Council-run care homes.
In schools, assemblies and other large assemblies will be stopped unless absolutely essential.
£2m emergency funding has already been assigned to reinforcing necessary proactive and preventative measures against Coronavirus.
'Our focus is on minimising the impact of the virus on our communities and Council services,' says McVey, 'with a particular emphasis on health and social care.
'This is a rapidly evolving situation and we'll continue to send relevant information to staff, schools and on our dedicated web page. We'll also continue to signpost official guidance.'
Taking a break
Regarding the Council's committee business, the Easter recess period has been brought forward to 21 March. It will continue until 27 April.
Any urgent decisions during this recess will be made by the Council Leadership Forum (a formal committee of group leaders of each political grouping on the Council, chaired by the Council Leader).

Think local
While continuing to liaise with the Scottish Government and NHS, McVey stresses the importance of thinking locally: 'Phone your neighbours, offer to collect a prescription, take their bins out or pick up some shopping.
'Small but meaningful gestures can help us pull together as a city as we get through this by looking out for one another.'

Anyone seeking safe ways to pitch in should contact Volunteer Edinburgh.

Health advice
People can reduce their risk of getting and spreading the Corona infection by:
avoiding direct hand contact with your eyes, nose and mouth
maintaining good hand hygiene
avoiding direct contact with people who have a respiratory illness and avoiding using their personal items such as their mobile phone
covering their nose and mouth when coughing or sneezing with disposable tissues and disposing of them in the nearest waste bin after use
Wash hands with soap and water or alcohol hand sanitiser before eating and drinking, and after coughing, sneezing and going to the toilet.