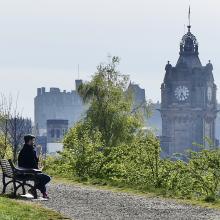 There is a timeless hush about Edinburgh these days.
Sometimes, it's like a tonic for the soul. Sometimes, it's unsettling and peculiar.
Yesterday afternoon, it was simply confusing when the gentle notes of a saxophone seemed to enter Greenside Row from every direction simultaneously.
Spurtle wandered in circles searching for the source, till finally tracking it down to a lone musician high up on the northwest face of Calton Hill.
This correspondent complimented that musician on his tonal ubiquity. That musician pointedly replied that he had chosen his particular spot because he wanted to be alone.
This correspondent was about to attempt something profound about timelessness when he noticed that: (1) that musician was now scowling at him; (2) the clock on the Balmoral Hotel had stopped.
For the time being it is forever 6.25. AM or PM: Enjoy, take your pick.—AJM
Do you have fleeting impressions of lockdown Edinburgh? Tell us at spurtle@hotmail.co.uk and @theSpurtle.