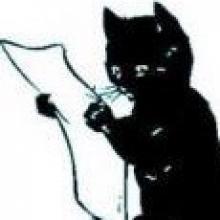 As you read this, early copies of the February Spurtle are already traipsing their way across the barony like lost tourists in search of something authentic.
We begin on Page 1 with a backward glance at the cause of all the mud, continue with better news about the cause of all the emptiness, look forward to plans for getting more quickly from one blighted spot to another, and introduce two delightful new faces to a delighted Bellevue.
On Page 2 we touch lightly on brewing and public-house art, shed light on illuminations, sup from a cup of uneasiness, and spend time on the buses.
Three sad losses, two missing persons, and a proposed new arrival of questionable size, brightness and frequency adorn Page 3, before Page 4 concludes with news of disastrous cardboard economics, new sushi, and the world scene in microcosm.
It's free, compact, informative and it won't ruin your appetite between meals. Issue 292 is available in all the usual spots tomorrow, and online and in colour at our Homepage from midnight.
As always, we look forward to hearing from you.