As you read this, only a very few Spurtles are dispersing across the barony, maintaining a 6ft distance between each other at all times and accessible to readers from behind a plexi-glass safety screen. 
Should you be lucky enough to encounter a copy, you will find on Page 1 news of flood, foam, and festive fatigue, and an unwelcome visitor to Broughton and all parts beyond.
Page 2 explains why one local has erected a barricade to protect his local bank, unveils a gravely suggestive contribution from the Mystery Mosaicist, picks holes in Council assumptions on public space, and sheds new light on city-centre streets.
It continues with news of trews, e-consultations on building developments, Romantic poetry, and a surfeit of booze.
If you're after information on Scots birds, defamation, and ways to avoid your neighbours or shut them up on a Saturday evening, you can save a lot of time by turning straight to Page 3.
Here, too, you will find delayed, superseded, or otherwise irrelevant items on subjects including a swimming pool you can't visit, a restaurant that shows no sign of opening soon, and an indefinite to-do list for City Centre Road Services. There is a smidgen of joy for NHS workers who don't smoke or gamble.
We conclude on Page 4 with a selection of humourless but helpful Coronavirus information and reliable sources of advice.
Spurtles will not be available this month in all the usual eateries, drinkeries, shops, and libraries across Broughton and beyond.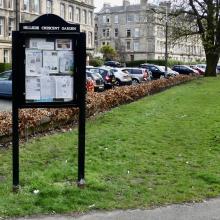 Instead they will be confined to noticeboards at Bellevue Crescent, Blenheim Place, Broughton Street, East Claremont Street, Gayfield Square, Hillside Crescent Gardens, Hopetoun Crescent Gardens, King George V Park, McDonald Road Library, Melgund Terrace, Pilrig Park, and St Mark's Park.
Views expressed in the paper do not necessarily represent those of the various noticeboard/window owners, whom we thank for their cooperation.
Subscribers will receive copies through the post at some point in the future when our printer reopens for business and it is safe to send and receive them.
In the meantime, colourful and hygienic pdfs will be available online from midnight tonight HERE, and regular news updates and distractions appear on the online Breaking news page.
We wish all our readers health and happiness, or, failing that … mild symptoms and a full recovery.