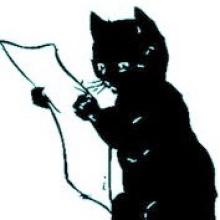 As you read this, advance copies of the May Spurtle are already spreading across the barony like half-frozen political canvassers ducking into shops to get out of the wind.
Page 1 begins with a glaring absence, a brilliant presence, and mind-boggling Council self-contradiction. It continues with confirmed plans for the Beaverlands, then tapers to a wobbling close on Leith Walk. No officials were harmed in the writing of these reports.
On Page 2, we press on with smiles (inane and ovine), agricultural special pleading, a pop-up plod, pied-à-terre on a hill, and feet unleashed. In a pointed piece, we go gunning for poor consultations. No official was harmed in the writing of these reports.
If it's painfully compelling coverage you're after, look no further than Page 3. Jaundiced of Claremont gets stuck into the hustings and those who attended. We report the effects of climate change on soluble built heritage, and locals' annoyance with heritage experts insufficiently in touch. We advise against holding breath, excite gongoozlers, and explain an absence of coffee in the New Town.
Guano and outdoor seating (twice) grace Page 4, as do anti-social behaviour and dog-poo in back greens. We never shy away from the big issues.
You can pick up a copy from any of the usual shops, bars, eateries and libraries across Broughton and beyond. Alternatively, download a colourful pdf from our website HERE after midnight tonight.