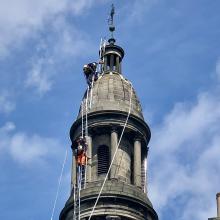 The sight of workers swinging from the tower of Broughton St Mary's is enough to make anyone queasy.
Imagine how much worse you'd feel if you were responsible for the cost of repairs and someone told you it would be £80,000 more than you'd originally budgeted for.
That's the alarming position now facing those responsible for the familiar and much-loved 200-year-old structure at the centre of Spurtleshire.
Meticulous plans to refurbish the sanctuary, vestibule, and stairwells were set in motion over the summer. The project involved new wheelchair access, rewiring, relighting, redecoration, and improvements to the audio-visual systems.
High anxiety
Unfortunately, once scaffolding was in place, contractors found that the condition of internal cornicework was worse than expected, and external stonework around the dome and weathervane was in danger of collapse.
Expensive emergency repairs were unavoidable, and the revised project is now expected to take an additional 10 weeks.
Extra grant funding for repairs isn't available once a project's begun, and Broughton St Mary's has been forced to take out loans to cover the £80,000 shortfall. But paying these back is problematic given that the building is currently closed and unable to generate income through room rentals.
The congregation has therefore opened a crowdfunding page HERE, and is hoping that locals will pitch in to help.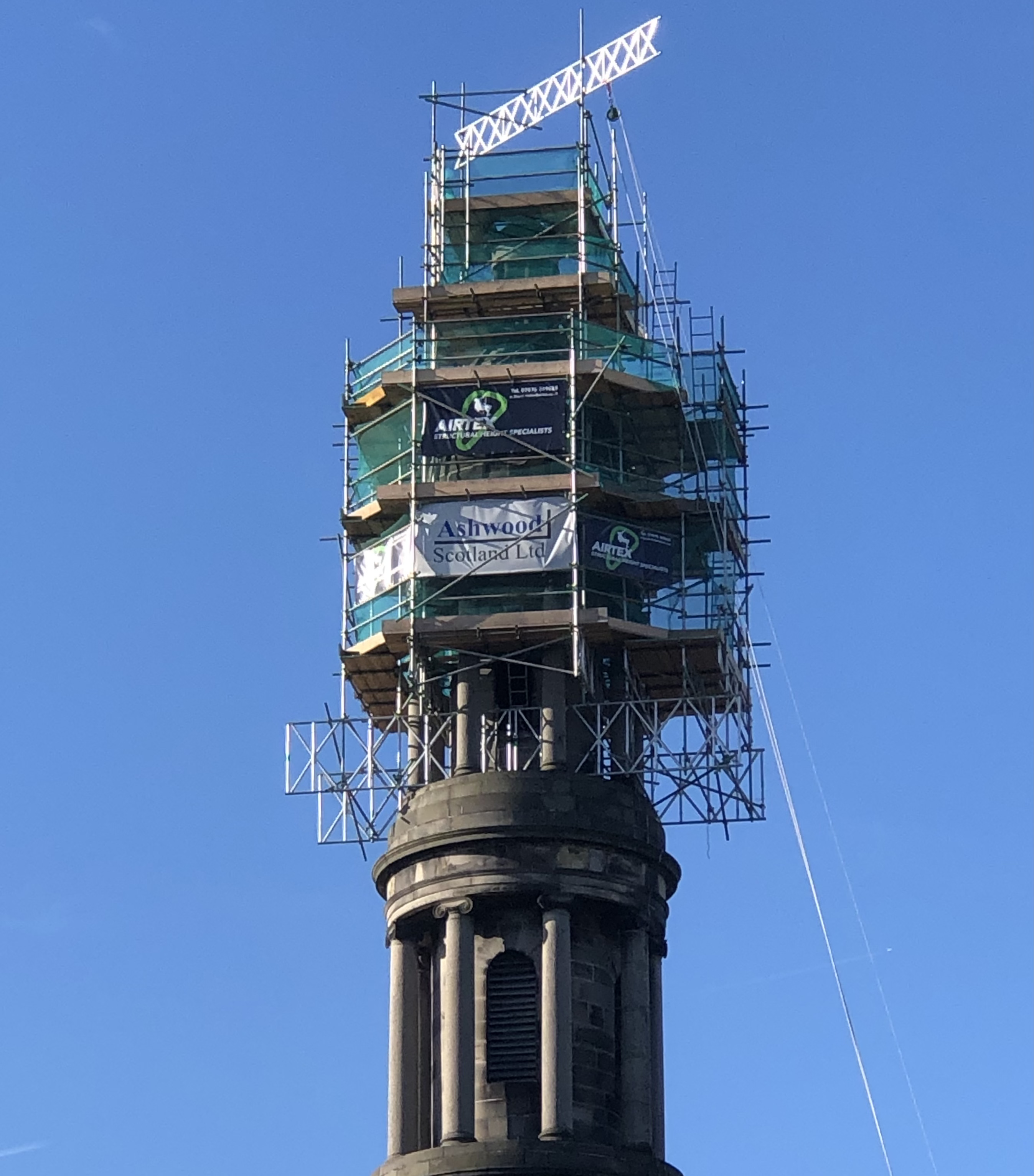 At the heart of community
Since its Inside Out initiative launched in 2010, Broughton St Mary's has had a clear mission to reach as wide a cross-section of the parish as possible, affirming all people here regardless of creed, colour, gender, sexual orientation, or age.
So, in normal times, as well as being an active and forward-looking face of the Church of Scotland, it provides affordable spaces for numerous local activities including Brownies, Scouts, community council, carpet bowls, residents' groups, choirs, bands, yoga, orchestras, and Spurtle hustings.
It is home to a Foodbank (operated by the Trussell Trust) catering for those affected by Food Poverty, and the Council-funded Action Group operates a centre here for people with learning difficulties.
It also has a proud record of ministering to the Lesbian-Gay-Bisexual-Transgender community in the Broughton Pink Triangle.
All in all, it's an essential community hub which well deserves the community's support in this hour of need.
UPDATE (23.7.21): From an unofficial source within Broughton St Mary's, we now hear 'There are two large longitudinal cracks through the cornice above the pulpit and on the south elevation where there was historic water ingress. There has also been historic deflection in the ceiling and substantial steel ties were installed in the attic space to counteract eaves spread as part of a previous repair scheme. The erection of the birdcage scaffold allowed a closer inspection of the plasterwork and cracks to be completed. Specialist plaster company Reproduction Plaster completed an inspection from the scaffold and they recommended replacement of 32m of cornice.' See image below.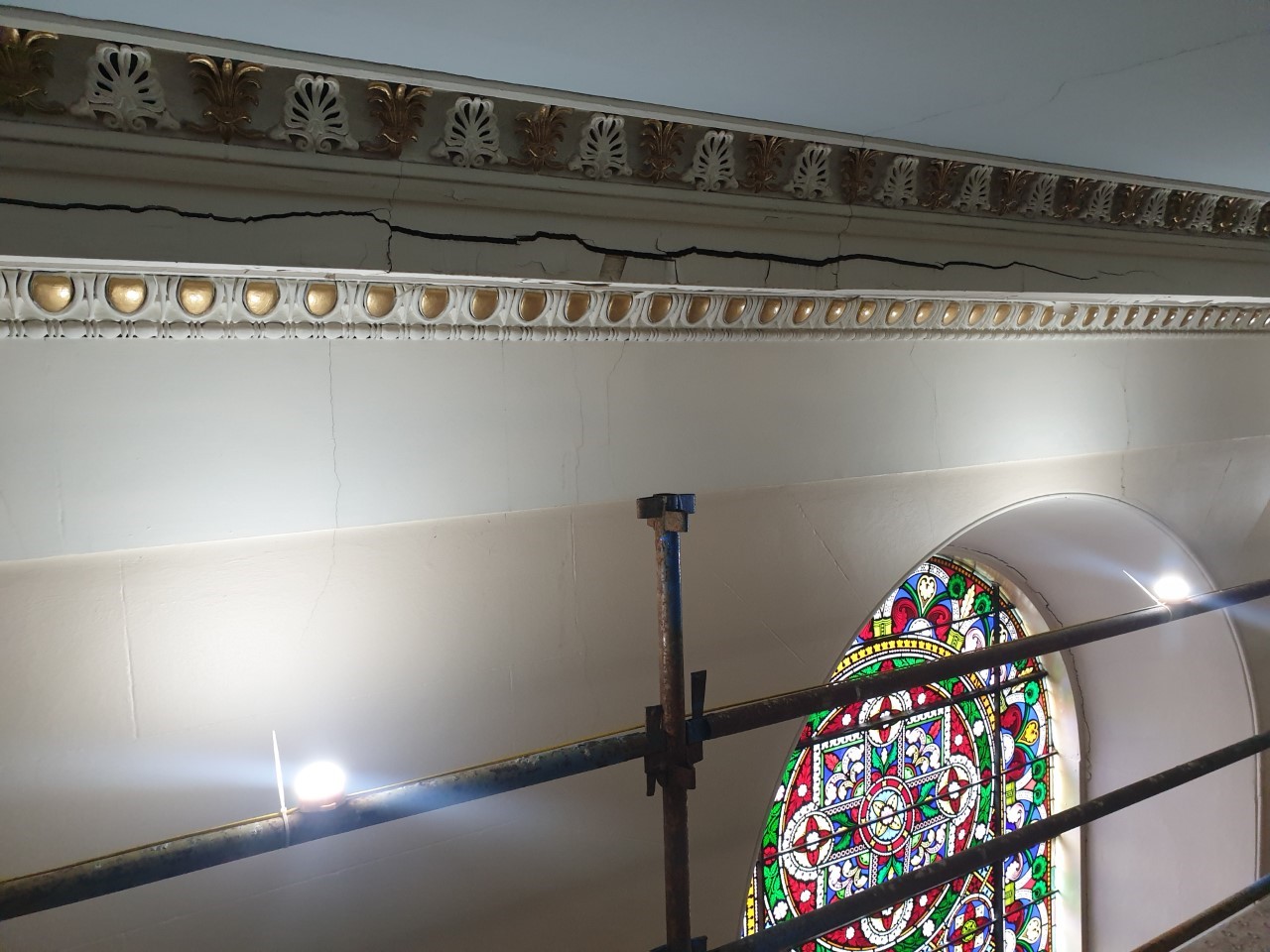 ------------------------------