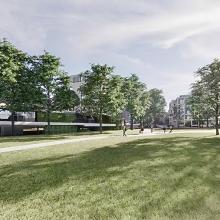 1 MAY DEADLINE – DON'T FORGET TO COMMENT
Ediston and Orion Capital Managers, the entities behind the proposed New Town North development between Dundas Street and King George V Park, have issued their latest newsletter to subscribers.
In it they summarise their initial feeback to over 50 comments and questions received since the latest consultation on their plans went online on 9 April.
They say the sensitive relationship between development and park (not least the condition, retention, and replacement of trees) is key to the most recent exchange of views.
They emphasise that: 'The current proposals create 2,200 square metres of green space. This is equal to 25% of the area of the park.
'Proposals to create a more active travel route through the park have been scaled back in response to concerns from the Friends of King George V Park group and some local residents, and we are looking at ways to manage the flow of pedestrians and cyclists which has been raised as a concern.'
Those still wishing to comment have until 1 May to do so here.
Those interested in Spurtle's last public musings on the subject can find them here.