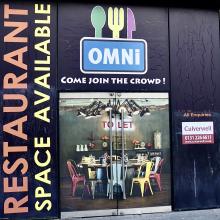 Edinburgh Street Food Ltd has submitted proposals for a new canopy, external bar, and outside seating to serve combined Units 6 and 7 at the OMNi Centre (21/06504/FUL). The site belongs to Nuveen, which also owns the St James Centre.
The new hospitality space would fill the current tranquil and tree-lined route between Leith Street and Greenside Row.
Nuveen (at the time called THR Real Estate) first proposed enclosing and commercialising the space in 2018. The Development Management Subcommittee, whose members were unpersuaded by the arguments tendered here by the Spurtle and others, granted planning consent for those plans in May 2021.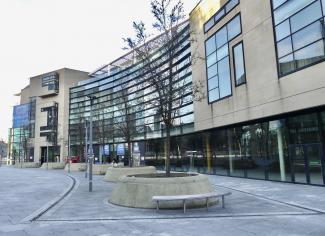 Edinburgh Street Food's new proposals comprise a major refit for the interior spaces, creating a street food-hall served by 10 separate vendors.
There's an emphasis on communal dining and shared tables, although Covid considerations could temporarily cramp the style.
Outside, three of the six trees and planters would be retained, with new 'banquette' seating around them. The remaining trees would be removed and repositioned 'if possible'.
Other seating would comprise a mix of fixed and loose tables and benches, some of them under a colourful canopy.
Will noise annoy?
In a letter of support, the OMNi Centre Manager says the proposal would 'reinvigorate an unused external space and encourage healthy activity throughout the day and into the evening'. 'Healthy activity' presumably refers to communal eating and carousing between 11.30am and 9pm from Sunday to Thursday, and between 11.30am and midnight on Fridays and Saturdays.
Edinburgh Street Food says amplified music would be restricted to indoor parts of the premises, and the OMNi Centre Manager again weighs in to suggest  that the business is 'unlikely to lead to an unacceptable impact on amenity for residents, noise, disturbance, on-street activity, or anti-social behaviour'.
What that optimism is based on, we don't know. As the Design Statement's palette of external materiality makes clear, when it comes to socialising, most people 'Stop thinking. Start drinking.'
Edinburgh Street Food says the nearest residences are adjacent to the Playhouse Theatre, omitting to mention those on Calton Hill just round the corner.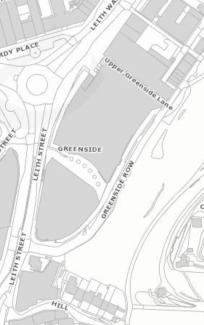 We estimate the outdoor seating would accommodate around 230 people. Presumably, others would be able to stand around the tables or congregate beyond the seating area nearby. Their combined cheerful voices would surely carry further afield from the reverberating hard surfaces.
Given the Development Management Subcommittee's earlier reluctance or inability to preserve this open space as a quiet and leafy refuge, we see little prospect of its members blocking the latest proposal to energise it. However, anyone wishing to comment may do so here by 28 January.
A determination is expected by 11 February.
------------