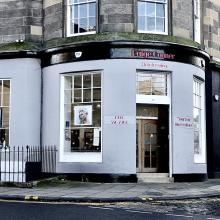 Congratulations to Paige Conner and staff, who have been voted the Edinburgh's top hair salon in this year's Scotland's Business Awards.
An unknown client nominated the Broughton Street team over the summer, with others offering their own votes and reviews later.
A mystery shopper also visited the salon to verify the quality of the service, and to help whittle down 500 nominations to an elite 40.
Six hair salons made it through to the final, with Paige Conner Hairdressing taking top place in a ceremony held at the Leonardo Hotel in Murrayfield.
The prize certificate is now proudly displayed in the shop.
Paige has been running the business at 40 Broughton Street for 6 years now, with 3 permanent staff and 4 'rents'. We wish them all continued success for many years to come.