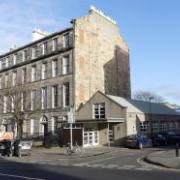 Hackland + Dore Directors Pension seeks planning permission to knock down the single-storey office building of Hackland + Dore Architects at 16 Annandale Street.
The proposal is to replace it with a seven-floor, 11-flat residential building (20/00364/FUL). This would be a car-free development.
The tall and skinny design slightly exceeds the height of the Category A-listed building beside it, with a penthouse set back. Like the current office/shed, it is also longer at the rear.
H+D's Design Statement speaks of a 'dialogue' between this new contemporary residential development and the adjacent building.
In this correspondent's opinion, the elegant simplicity of the proposed SW-facing elevation also sets up a dialogue with the seven-floor elegant simplicity of the training tower behind McDonald Road Fire Station (pictured below), which I have always liked there.
On Thursday morning (6.2.20), four comments had been left on the Council's planning portal, all of them objections. Any reader wishing to add their pennyworth – for or against – may do so online HERE. The deadline is 28 February.—AM
--------