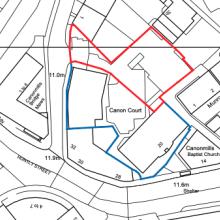 Edinburgh-based Colliers, representing Dogma Square Properties, seeks planning consent for a 4-storey block in the car park behind Canon Court. The ground-floor office space and 9 apartments above (6 x 2 bdrm, 3 x 1 bdrm) would be accessed from Canonmills and Warriston Rd (23/06328/FUL).
About 67% of the flats would be dual aspect, with most windows facing towards the north and south-west and not overlooking neighbours. Lovers of buff brickwork and grey metal cladding will not be disappointed.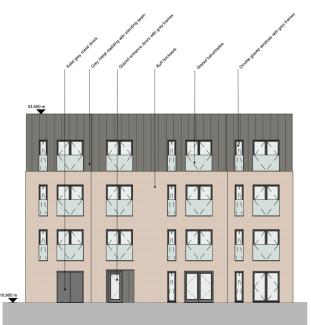 A 'green buffer zone' of  groundcover, ferns, grasses and perennials would border the building on 3 sides. Some 18 car parking spaces would be retained for the use of the adjacent aparthotel.
Apologists for the scheme like its efficient use of space and accommodation of permanent rather than transient residents.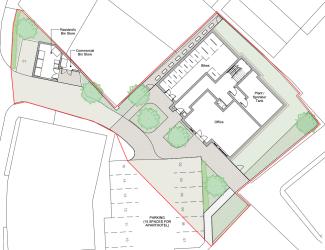 Neighbours who gathered to discuss it on 7 November say it is:
a 'dull lump in the wrong place', an incongruous and overlarge blot on the streetscape of the Inverleith Conservation Area
an unnecessarily tall and overbearing structure in a confined space which would reduce their daylighting, sunlighting and privacy
likely to increase competition for kerbside car parking in the area
vulnerable to surface-water flooding, not least in where its air-source heat pumps are positioned
insufficiently green in terms of amenity space.
Concerns were also raised about the scheme adding to an already overburdened sewerage system in Canonmills.
New Town & Broughton Community Council will back locals in opposing the plans.
Those residents who gathered earlier this week have now produced a checklist of material objections which others in the neighbourhood may refer to when responding to the application. It is attached at the foot of this page, along with a separate critical report commissioned from Fouin & Webb architects.
Anyone wishing to comment for or against the proposal may do so HERE by 17 November.